CAL Programmes
CAL Enrollment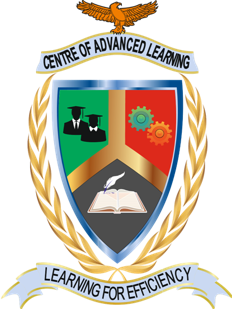 CAL ONLINE APPLICATION PROCEDURE - JULY INTAKE 2021
1. VIEW THE COURSES ON OFFER LISTED IN THE TWO (02) BROCHURES BELOW.
2. DOWNLOAD THE COPY OF YOUR CHOICE THE APPLICATION FORMS BELOW.
3. FILL IN THE DETAILS OF THE APPLICATION FORM IN BLUE INK PEN ON A HARD COPY (ALL PARTS).
4. SCAN THE FILLED-IN HARD COPY FORM AND EMAIL IT TO cal@airforce.mil.zm COPY ADDREESS TO calairforce@gmail.com.
5. ONCE YOU ARE ACCEPTED, A HARD AND SOFT COPY OF YOUR LETTER WILL BE SENT TO YOU.
6. YOU WILL THEN BE REQUIRED TO USE YOUR STUDENT NO. ON YOUR ACCEPTANCE LETTER TO ENROLL IN THE STUDENT INFORMATION SYSTEM AT THE NIPA/CBU PORTAL AND THEN LATER ON YOU WILL USE THE SAME DETAILS (USERNAME AND PASSWORD) TO LOGIN TO THE E-LEARNING SYSTEM (MOODLE FOR NIPA OR ASTRA FOR CBU) WHEN LEARNING COMMENCES.
7. YOU ARE THEREFORE ADVISED TO CONSULT THE OFFICE OF REGISTRAR IN PERSON TO CONFIRM YOUR CANDIDACY OF THE ACADEMIC PROGRAMME AFTER FULFILLING THE ABOVE STEPS.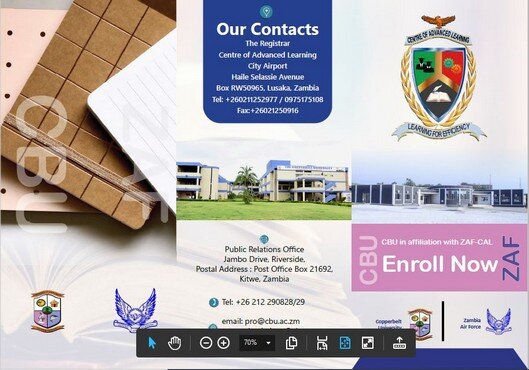 CBU in affiliation with ZAF-CAL - Enroll Now (JULY 2021 INTAKE)
Enroll now in the following Programmes:
Degree ;
• Bachelor of Peace and Conflict Studies
• Bachelor of Human Resource
Management.
• Bachelor of Accountancy
• Bachelor of Public Health
• Bachelor of Business Administration
• Bachelor of Purchasing and Supply
Masters ;
• Master of Arts in Peace and Conflicts
Studies.
• Master of Public Health
Entry Requirements:
Five (5) "O" level credits or better which
must include English and Mathematics.
Application forms can be obtained at the
Centre of Advanced Learning.
Duration:
Diploma - Two (2) years
Degree - Four (4) years
Masters Degree - Two (2) years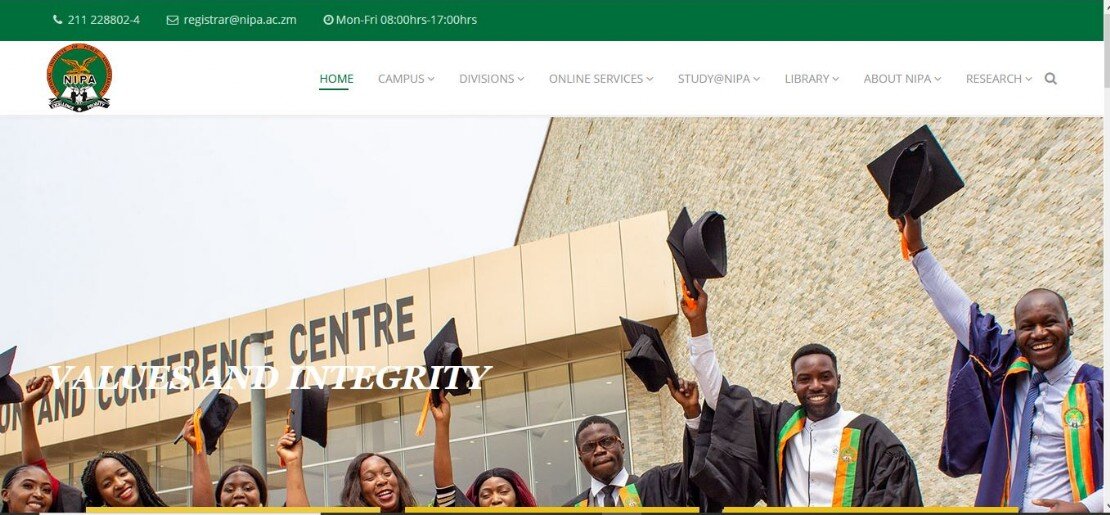 NIPA in affiliation with ZAF-CAL - Enroll Now (JULY 2021 INTAKE)
Enroll now in the following Programmes:
Degree ;
• Bachelor of Public Administration
(BPA).
• Bachelor in Computer Science
• Bachelor of Laws (LLB)
• Bachelor in Transport and Logistics
Management
Masters;
• Masters of Law (LLM).
• Master of Law General
• Master in Constitutional and Int' Law
• Master in Criminal and Criminal
Procedure Law

VIEW OR DOWNLOAD CAL NIPA BROCHURE
YOU CAN DOWNLOAD CAL NIPA APPLICATION FORM
VIEW OR DOWNLOAD CAL CBU BROCHURE
YOU CAN DOWNLOAD CAL CBU APPLICATION FORM